A dosa is South Indian, fermented crepe made from rice batter and black lentils. Masala Dosa, specifically, is when you stuff it with a lightly cooked filling of potatoes, fried onions and spices.
Cuisine: Indian
Theme: Vegetarian
1-1/2 cups long grain rice
1/2 cup urad dal (polished black lentil or white lentil)
3 quarts water
Salt
1 medium onion, chopped
1 – 2 green chilies, chopped
1 Tbs. ghee (clarified butter) or regular butter
1/2 tsp. black mustard seeds
1/2 tsp. chana dal (split black chickpeas)
1 sprig curry leaves
1/2 tsp. turmeric powder
2 large potatoes, boiled
8 oz. coconut, cilantro and tomato chutney (optional)
16 oz. sambar (vegetable lentil stew, optional)
Prepare Dosa Batter:Soak rice and urad dal in separate bowls for 4-6 hours. Strain.
Process rice and urad dal mixture in commercial grinder or food processor. While grinding, add water a cup at a time until it reaches the consistency of pancake batter.
Salt to taste.
Cover mixture and let sit overnight. Do not refrigerate; it needs to ferment.
Prepare Masala Dosa Filling: Add oil or ghee to a skillet.
Add mustard seeds and chana dal.
Shake mixture over the flame until golden brown.
Add curry leaves (whole leaf), green chiles, and onions.
Sprinkle turmeric powder and salt (for taste). Stir.
Break up boiled potato into small chunks and add them to your mixture. Add water and stir.
Prepare Masala Dosa: Pour refrigerated dosa mixture into a small bowl with a flat bottom.
Pour batter into a greased skillet.
Immediately, starting from the center, begin forming a circular shape with the batter using the flat-bottomed dish.
Brush on ghee (or regular butter) to frying dosa.
Place filling near the center of the dosa.
Lightly lift the edges of the dosa.
Begin rolling from the edge of the dosa as you would a wrap.
Remove dosa from hot top or skillet.
Masala Dosa is typically served with coconut, cilantro and tomato chutney as well as sambar (vegetable lentil stew)
Types of Dosa:
1.
Home based dosa
Easy to cook, delicious to eat and difficult to forget, Dosa is one such Indian dish that has made a huge name for itself in the rest of the world. Mostly enjoyed in the southern region of the country, Dosa is now widely prepared in most Indian households because it is convenient and delicious. One of the best options for a healthy breakfast, lunch or dinner, you can enjoy Dosa with or without Sambar by just making a few chutneys along with it. If your imagination lets you go afar, a Dosa can also be turned into a pizza or it can be stuffed with your favourite Indo-Chinese dish like Chilli Paneer. So, for you to try out something delectable even in these lockdown times, here are easy to make Dosa dishes to enjoy cooking and eating in HOME.
2. Quinoa Dosa
The name speaks for the healthy nutrition this dosa is capable of providing you with. A crispy and healthy treat for your breakfast is what this dosa is all about. One major point to keep in mind is to soak the quinoa overnight and rinse it many times because it has more starch than rice and is also a bit difficult to cook than rice. But, at the same time, we know health comes at a cost and in this case, the effort is the cost. Add ginger, salt and chillies to the batter to enhance the taste.
3. Set Dosa
Also known as 'Sponge Dosa' it is one such dosa that does not require either a filling or folding. It looks similar to a pancake and can be enjoyed with a variety of curries and chutney. Another great thing is that you will not have to worry about it getting soggy because of its spongy texture. Prepare this dosa with a delicious tomato and coconut chutney for your next breakfast.
4. Spinach Dosa
Add a whole bunch of health in your meal by adding blanched and pureed spinach leaves in your dosa. If you soak the rice and lentils right and the fermentation is also on point, there is no chance that this added spinach is going to take any crunch away from your dosa. A spinach dosa tastes best when had with curd or some coconut chutney.
5. Masala Dosa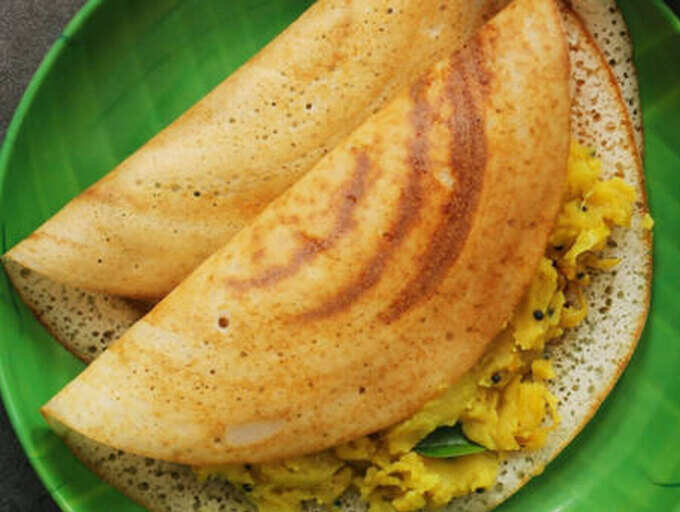 All of us have craved for a Masala dosa at least once in our lives and have wished to be able to prepare it in a jiffy. Well, here is your chance. This Masala dosa recipe is not just easy to make but is also delectable and you have your dinner menu decided for today.
6. Rava Dosa
One of the most tempting varieties of dosa, Rava dosa is prepared with the most unique and beautiful technique. The Rava dosa batter is thin as water and takes half the time to cook than any regular dosa. Rava, also known as semolina, is the key ingredient here along with rice flour. Make this Rava dosa in less than 20 minutes and you will never look back.
7. Paneer Chilli Dosa
While you can choose to add any filling of your choice in your dosa, a spicy, tangy Paneer chilli goes best because it blends with the outer layer of the dosa very well. And now you have a way to reuse your last night's dinner and a sorted delicious breakfast.
8. Dosa Handvo
Isn't a common name amongst people who are from the Northern part of the country but Handvo is another delicious dosa recipe that will take you by surprise. Full of nutrition and taste, a layer of vegetables is spread inside your dosa with a spicy and tangy chutney. Much like its other variants, Dosa Handvo is also a healthy classic to try. You can call it an amalgamation of Gujarati Handvo and Dosa.
9. Podi Dosa
If you haven't tried Podi dosa yet, you are missing out on a great taste of this combination of spices. The Podi is a blend of various spices which is enjoyed with a lot of South Indian food like Idlis, Vadas and Dosa. In this recipe, all you'd need to do is make a Dosa the regular way and sprinkle the Podi masala into it before folding it along with a dash of ghee. Enjoy this spicy and savoury version of Dosa with a freshly made nariyal chutney.